Understanding the Rarity and Potency of Oud and Its Implications in Beard Care
Oud, also known as Agarwood, is a rarity in the world of essential oils. It's not only one of the most expensive oils, but it's also one of the most complex and versatile. In this blog post, we delve into the world of Oud, its origins, different types, and the compelling reasons for its use in premium beard care products.
What is Oud?
Oud is a resinous heartwood that forms in trees from the genus Aquilaria when they become infected with a type of mold. The trees respond to the infection by producing a dark aromatic resin, commonly known as 'liquid gold,' within the heartwood. The resulting Agarwood can be distilled into oil, producing the prized Oud oil, renowned for its rich and mesmerizing fragrance.
The Rarity of Oud
The process of Oud formation is not a quick one. It can take many years for the Aquilaria tree to produce the resin and for the Oud to mature. This long process, combined with the increasing rarity of Aquilaria trees, contributes to Oud's status as one of the most expensive oils on the market.
The Different Types of Oud
Oud comes in several varieties, each with its unique characteristics and qualities. The type of Oud produced is influenced by the species of Aquilaria, the geographical location, and the extraction process. Some of the notable types of Oud include:
1. Indian Oud: Known for its bold, musky, and warm aroma, Indian Oud is considered one of the richest and deepest in scent.
2. Cambodian Oud: Cambodian Oud has a sweeter, fruity aroma. It's much softer and milder compared to Indian Oud, making it a great choice for those new to the scent of Oud.
3. Indonesian Oud: Indonesian Oud offers a more balanced scent, with a mix of sweet, woody, and slightly smoky notes.
The Capabilities and Benefits of Oud Oil
Despite its rarity and high cost, Oud is highly sought after, particularly in the world of luxury perfumery and skincare, for its unique scent and numerous potential benefits. For skin and hair care, the benefits of Oud oil are multi-fold:
1. Nourishment: Oud oil is known to be rich in nutrients that nourish the skin and hair, keeping them healthy and vibrant.
2. Anti-Inflammatory: Oud oil may have potent anti-inflammatory properties, which can help soothe irritation on the skin and scalp.
3. Antioxidant: Oud oil may also possess strong antioxidant properties that protect the skin and hair from damage caused by free radicals.
4. Natural Fragrance: Perhaps the most well-known benefit of Oud is its captivating fragrance. It provides a natural, luxurious scent that is unlike any other.
With all the remarkable features of Oud, it is only fitting that we at Noun Naturals incorporate this 'liquid gold' into our premium beard care line. We're proud to introduce our Arabian Oud Beard Oil - a product formulated with 100% real Oud, making it the first of its kind on the market.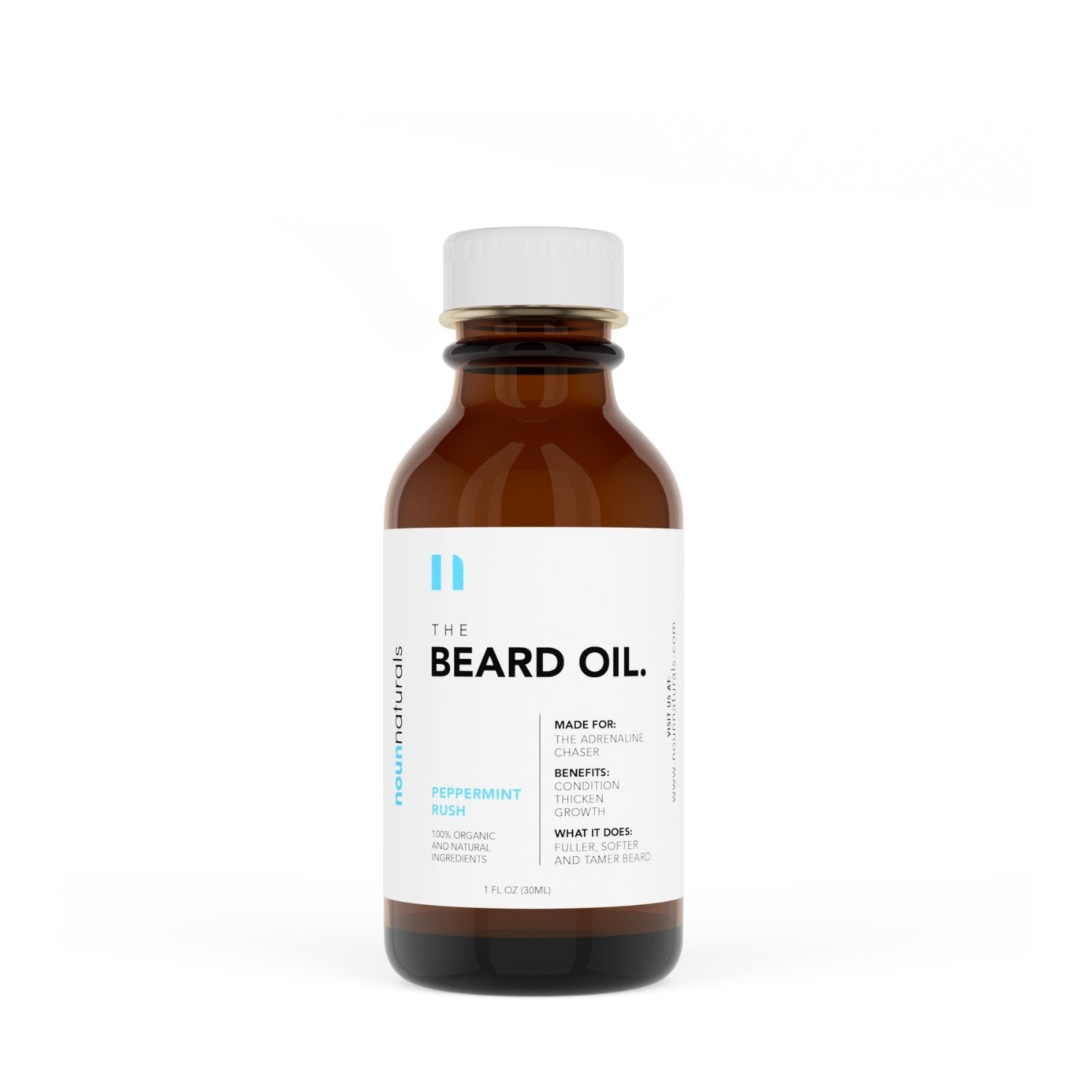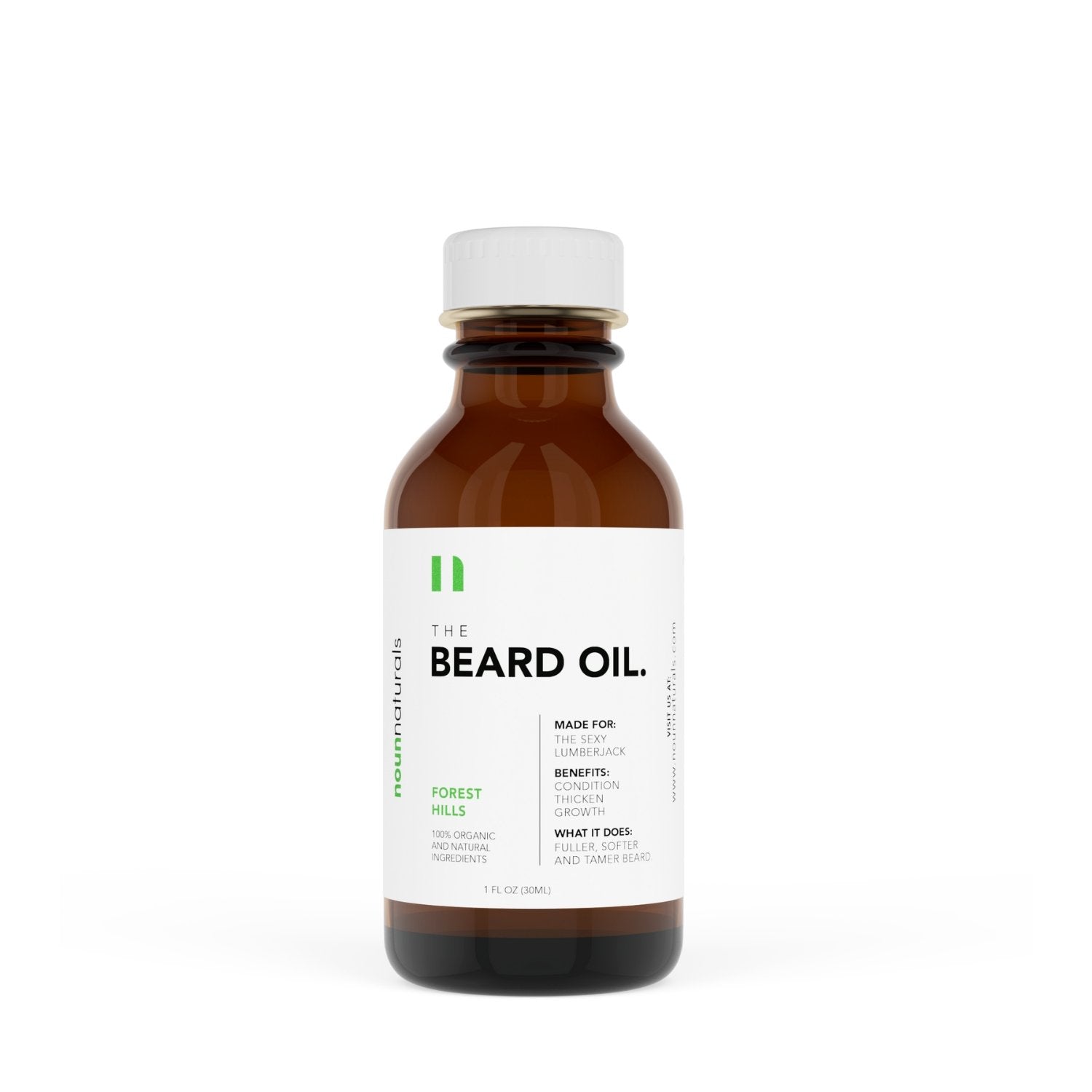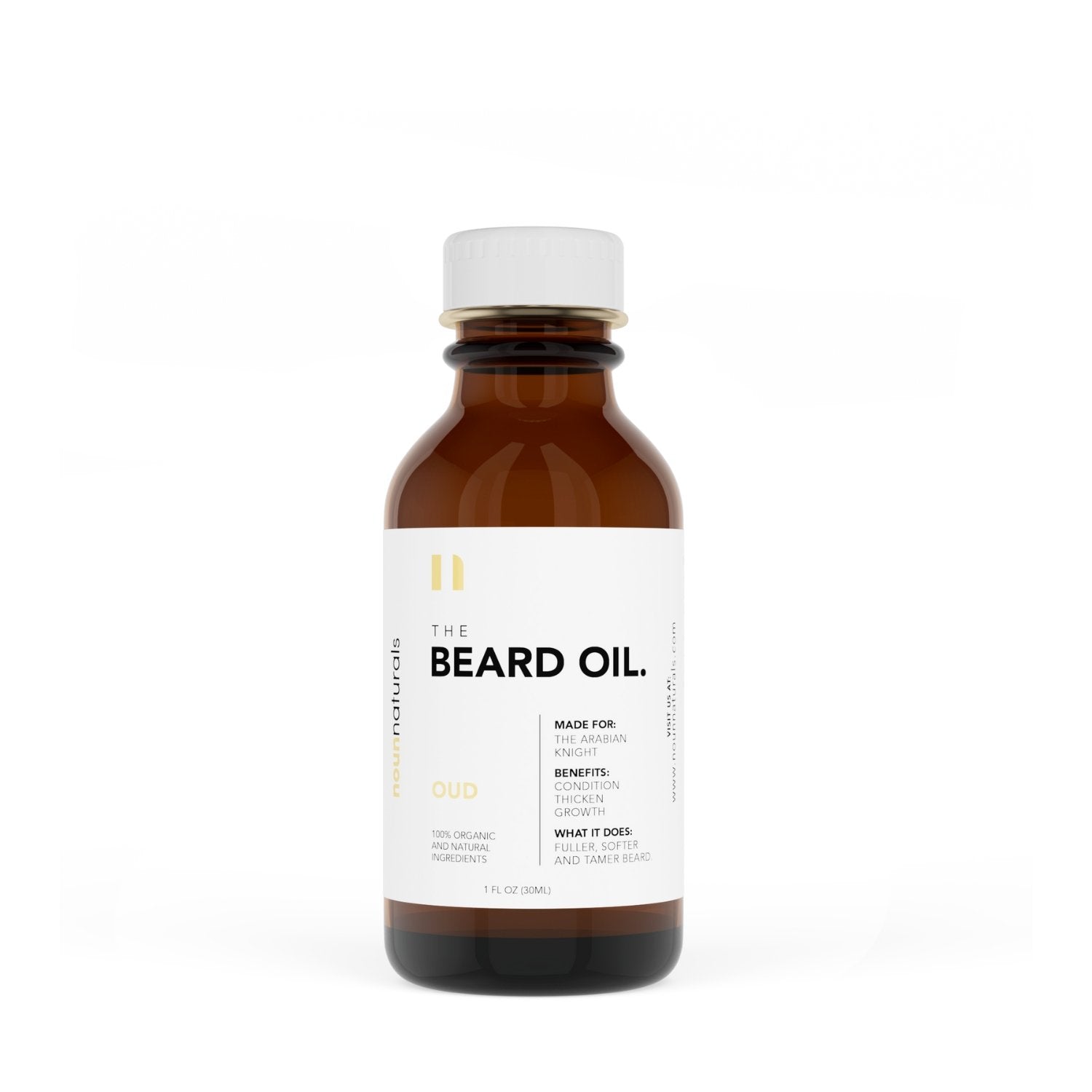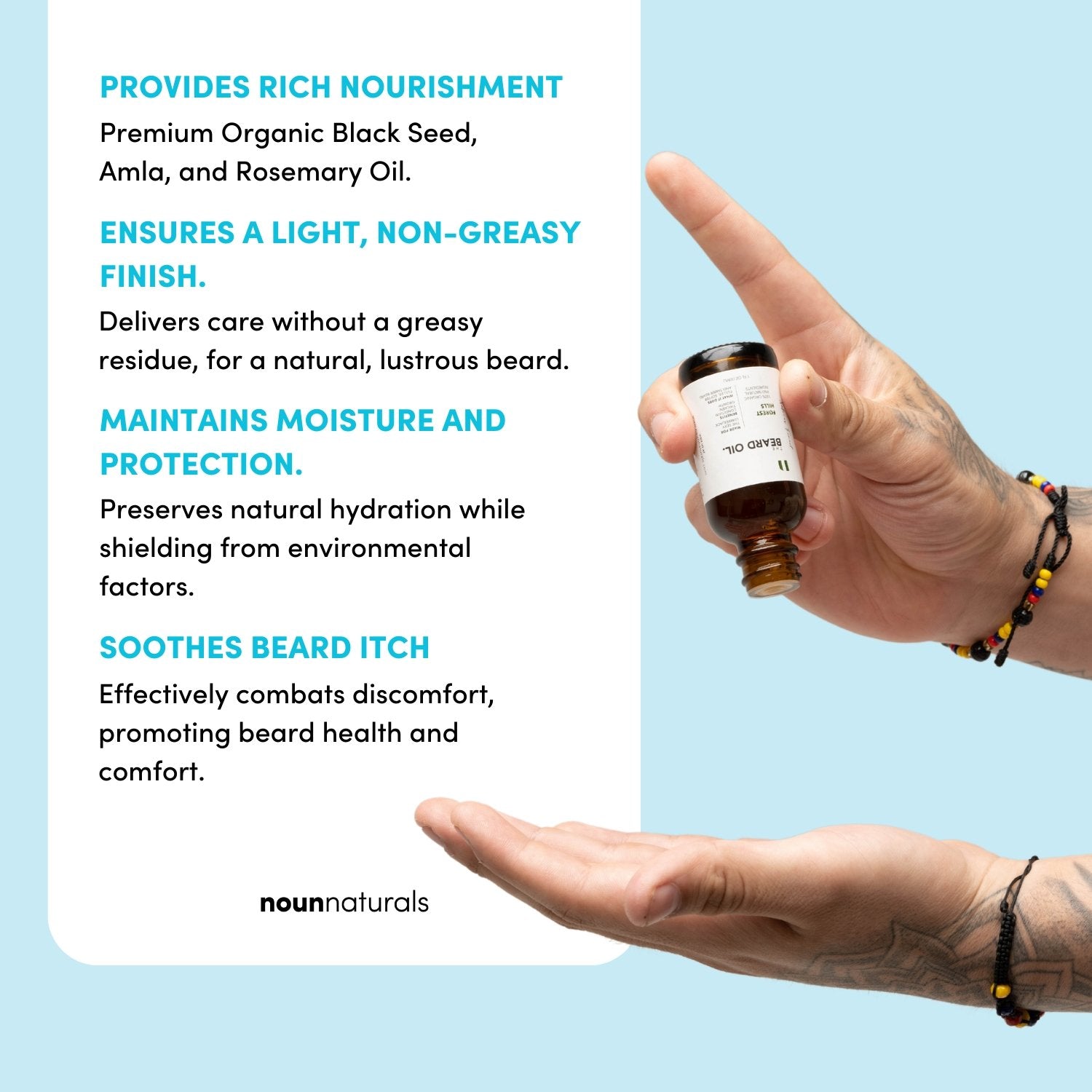 ---
Nourish and Enhance Your Beard with Our Non-Greasy Natural Beard Oil
Boost Your Beard Game: Experience the transformative power of our Beard Oil, made from the finest cold-pressed oils. A game changer for your beard and the skin beneath it.
Nourishment & Conditioning: This powerful blend of oils promotes a healthier, softer beard, possibly encouraging growth, while soothing the skin beneath.
Distinct Benefits: Offering more than just growth, expect to see improved shine, softness, and thickness in your beard, alongside hydrated, healthier skin.
Manageable & Soft: With regular application, this Beard Oil conditions your beard, making it softer, more manageable, and easy to style.
Practical Packaging: Housed in a shatter-proof glass container with an orifice reducer for easy, no-spill application, ensuring optimal preservation of the oils. Experience a leveled-up beard care regimen.
Scent Notes:
Japanese Peppermint: Experience the invigorating aroma of our 100% Organic Japanese Peppermint. Its refreshing scent provides a cooling sensation, leaving you feeling energized and revitalized.
Forest Hills: Delight in the harmonious blend of Pine, Cedarwood, Lemon, and Tea Tree. This captivating scent captures the essence of a serene forest, transporting you to nature's embrace.
Arabian Oud: Immerse yourself in the enchanting scent of Oud, Frankincense, Orange Blossom, Rose, Sandalwood, and Lily of the Valley. This captivating blend evokes a sense of exotic allure and sophistication.
Unlike other brands that often resort to synthetic, fragranced 'Oud' in their beard care products, we believe in the power of the real thing. Our Arabian Oud Beard Oil harnesses the nourishing, soothing, and antioxidant benefits of pure Oud, offering an unparalleled beard care experience. Plus, its natural fragrance is sure to make heads turn.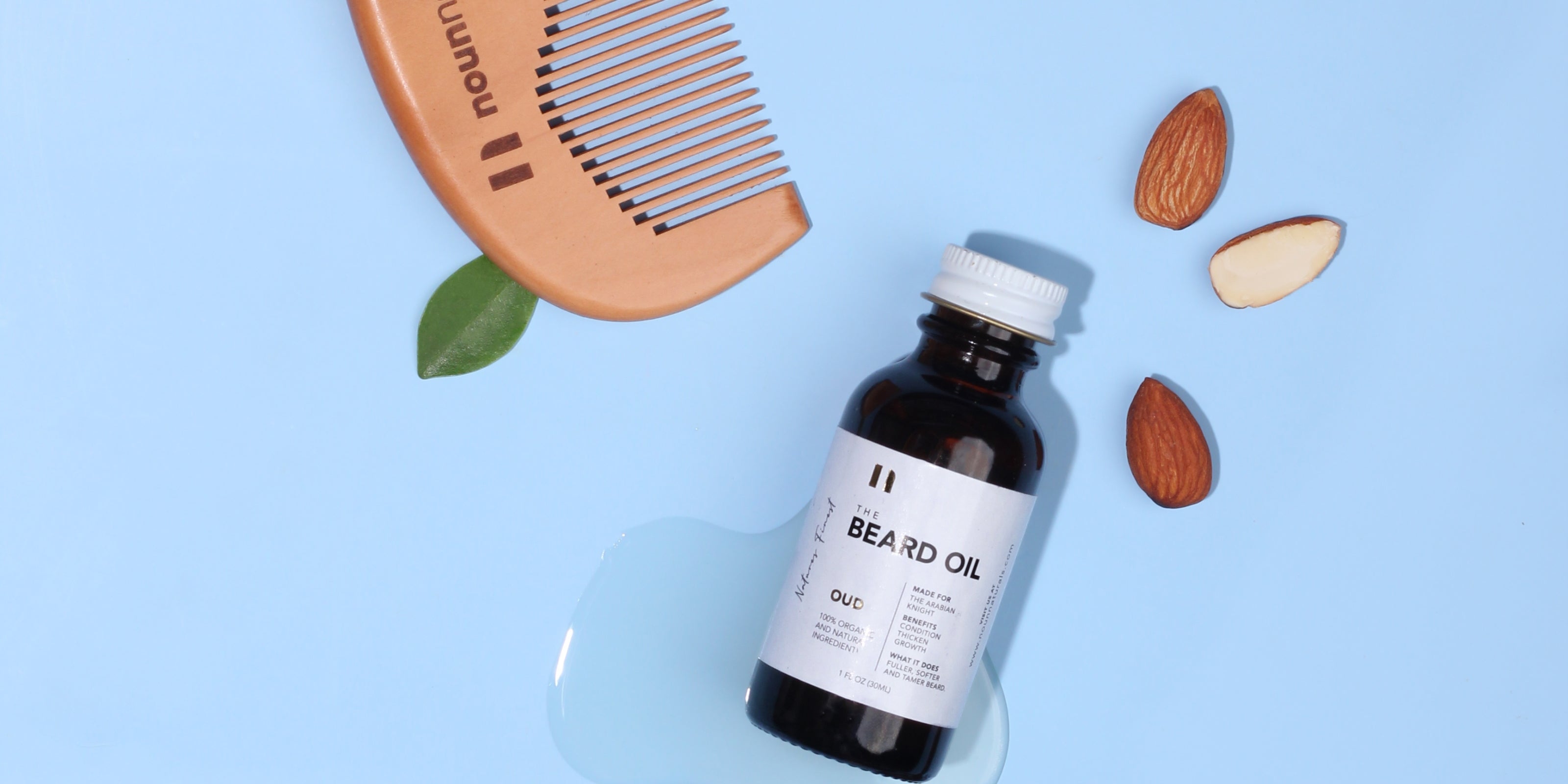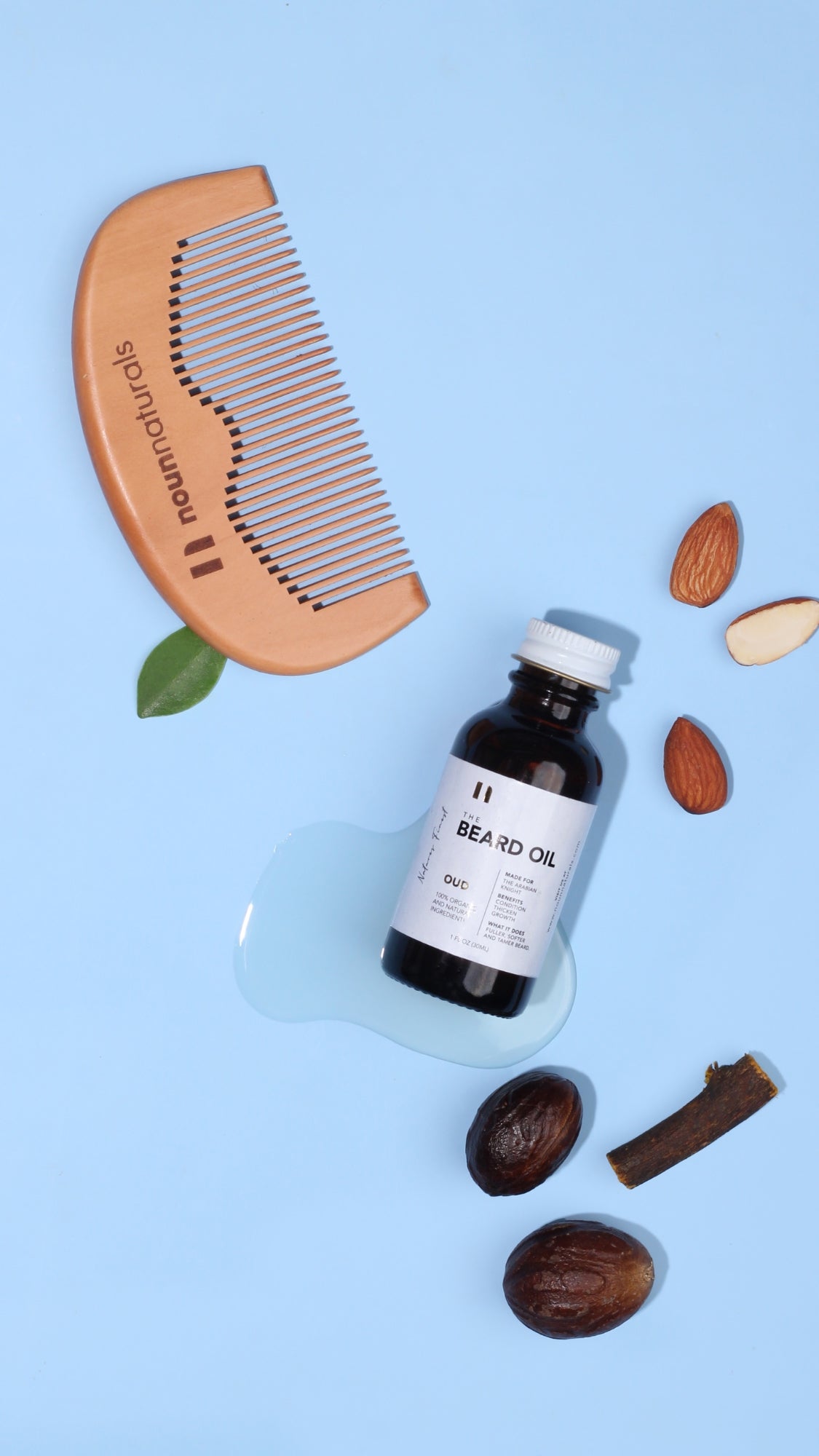 Final Thoughts
Oud oil is undeniably captivating, not just for its enchanting fragrance but also for its myriad potential benefits. Its ability to nourish, soothe, and protect skin and hair is exceptional, but it's also important to remember the value of authenticity when using Oud-infused products.
Remember, real Oud oil is a natural luxury, a 'liquid gold' that can elevate your grooming routine to new heights. When you opt for products containing genuine Oud, like our Arabian Oud Beard Oil, you're not only investing in the alluring aroma of this exquisite oil, but also in its nourishing, antioxidant, and soothing properties.
However, as with any natural product, it's important to understand that results can vary based on individual factors like skin and hair type, overall health, and more. Real Oud is potent and rich, but it's not a magic cure-all. Consistent care and attention to your beard, using quality products and a thoughtful routine, is the surest path to a healthy, well-groomed appearance.
In the next section, we will provide a brief conclusion to summarize the key points discussed in this blog post.
Conclusion
Oud is a gem in the world of essential oils. Its rarity, coupled with its unique aroma and potential benefits for skin and hair, make it an excellent addition to premium beard care products. Our Arabian Oud Beard Oil, made with 100% real Oud, brings the luxury and potency of this remarkable oil straight to your grooming routine, unlike other brands that rely on synthetic fragrances.
At Noun Naturals, we believe in the power of nature and the unmatched quality it brings. With the Arabian Oud Beard Oil, we're not just providing a product, but an experience steeped in luxury, authenticity, and care. Experience the difference with Noun Naturals.