The Pink Powerhouse
High in the rugged ranges of the majestic Himalayas, a natural treasure has been forged over millions of years – Pink Himalayan Sea Salt. But this salt is far more than a cooking ingredient. It has powerful properties that can work wonders for your skin. In this blog post, we'll take a journey to the source of this mineral-rich marvel, explore its skin-loving properties, and uncover how this age-old ingredient can create an indulgent skin scrub when blended with nourishing butters and oils.
Journey to the Source: Where Does Pink Himalayan Sea Salt Come From?
The story of Pink Himalayan Sea Salt begins in the Khewra Salt Mine in Pakistan, nestled at the foot of the Himalayas. The deposits of salt here are a staggering 800 million years old, remnants of an ancient sea that dried up, leaving behind mineral-rich salt.
Through the eons, geological pressure compacted these deposits into rock salt. The pink hue comes from trace minerals it contains, including iron, potassium, and magnesium. The salt's purity is a result of its remote location, safe from modern pollutants and contaminants.
Pink Himalayan Sea Salt: A Skin Care Champion
Pink Himalayan Sea Salt isn't just aesthetically pleasing, it's a natural powerhouse with a wealth of skin benefits. Here are some ways it can enhance your skin's health and appearance:
Gentle Exfoliation
Pink Himalayan Sea Salt's coarse texture makes it an excellent natural exfoliator. It removes dead skin cells, toxins, and dirt, leaving your skin fresh, rejuvenated, and glowing.
Mineral-Rich Nourishment
Loaded with essential minerals, this salt offers a mineral infusion for your skin. Iron gives your skin a youthful glow, potassium aids hydration, and magnesium soothes inflammation, leaving your skin feeling nourished and healthier.
Detoxification
Pink Himalayan Sea Salt draws out toxins and impurities from your skin's pores thanks to its natural detoxifying properties, leaving you with a cleaner complexion.
Balancing Skin pH
Due to its rich mineral content, Pink Himalayan Sea Salt helps balance your skin's pH levels, an important factor in maintaining healthy skin.
Unveiling 'The Salt Scrub' by Noun Naturals
Now, imagine combining the power of Pink Himalayan Sea Salt with the nourishing properties of natural butters and oils, such as Cocoa and Shea Butter, and Coconut and Castor Oil. This dream blend forms the basis of 'The Salt Scrub,' a product crafted by Noun Naturals to provide your skin with a superior, spa-like treatment at home.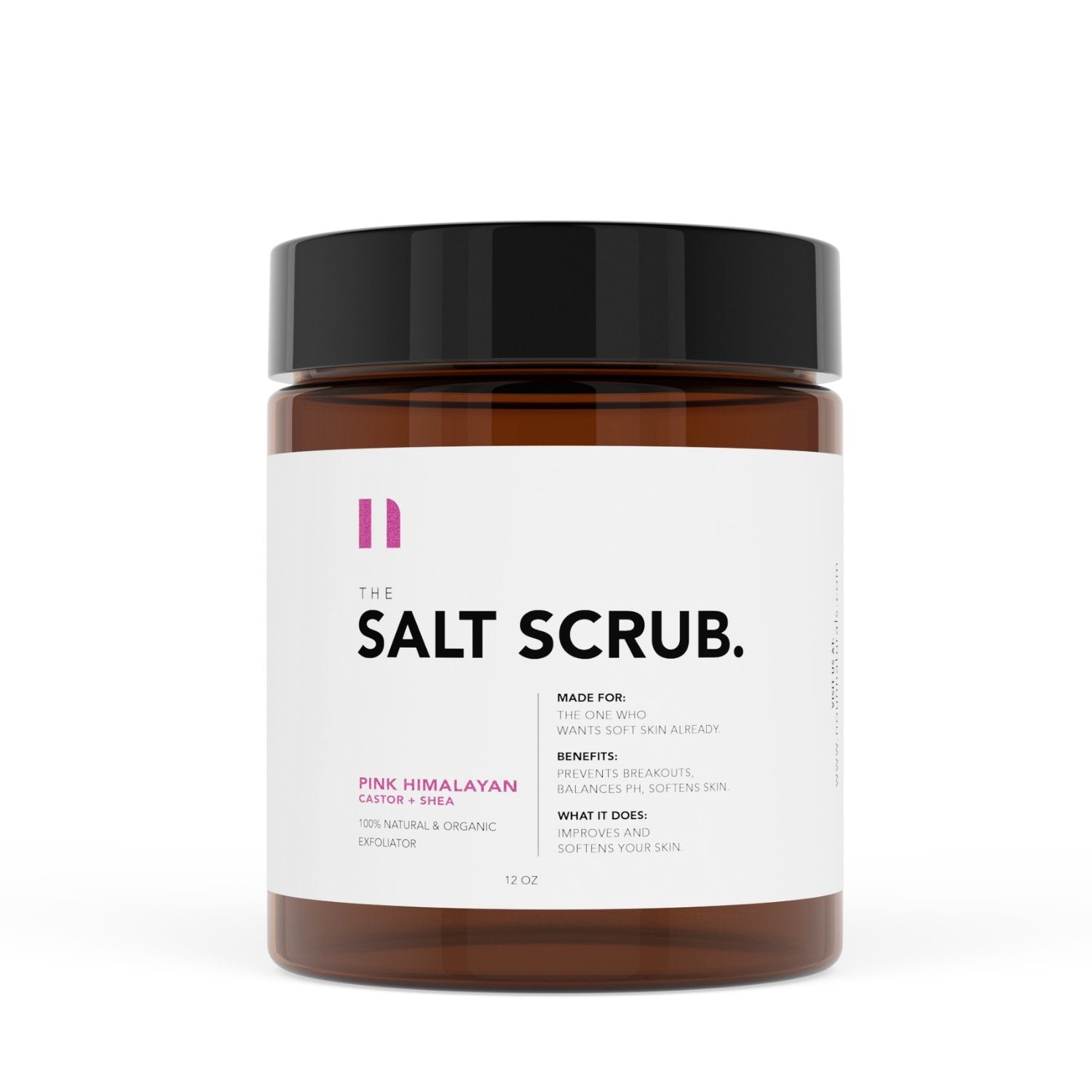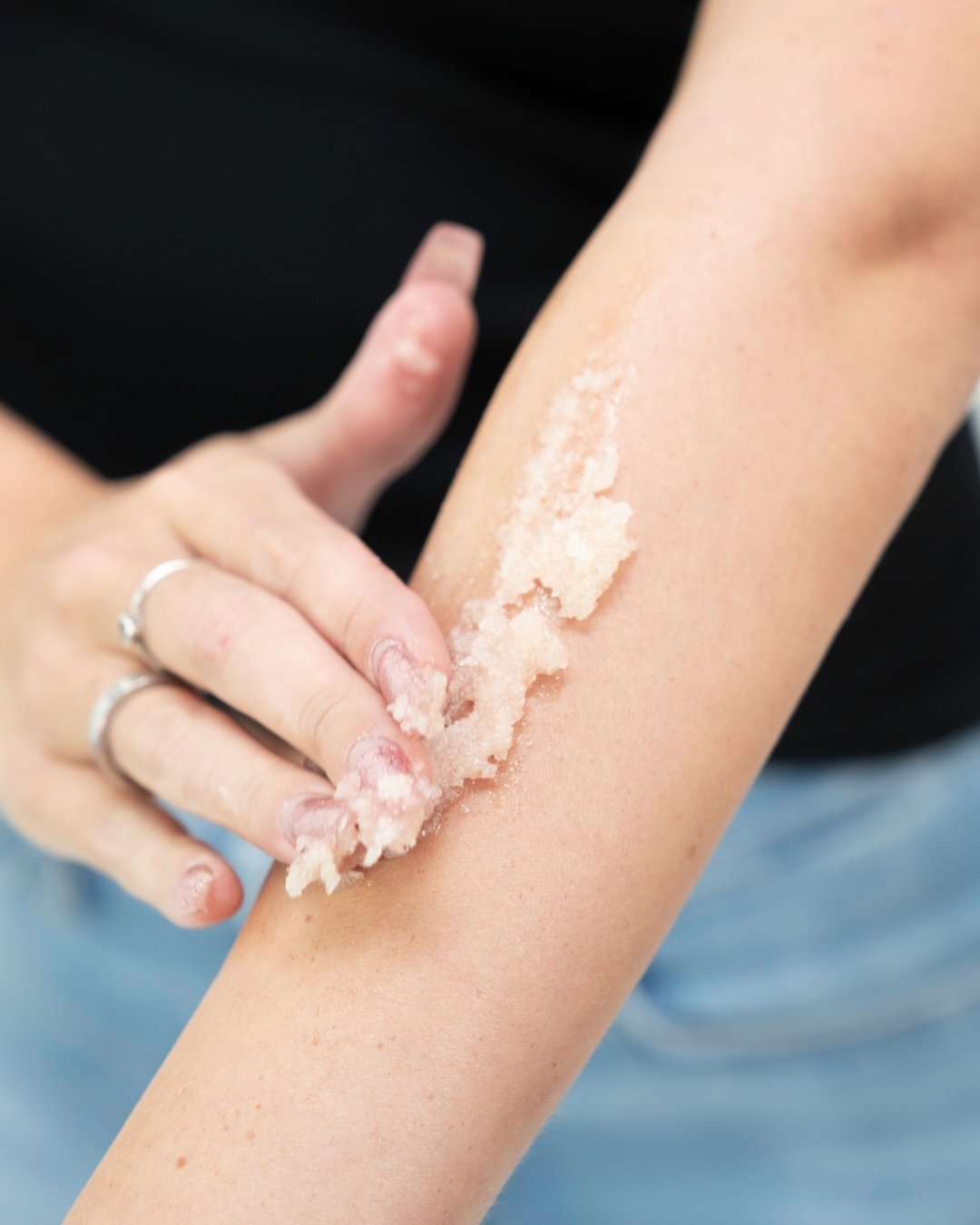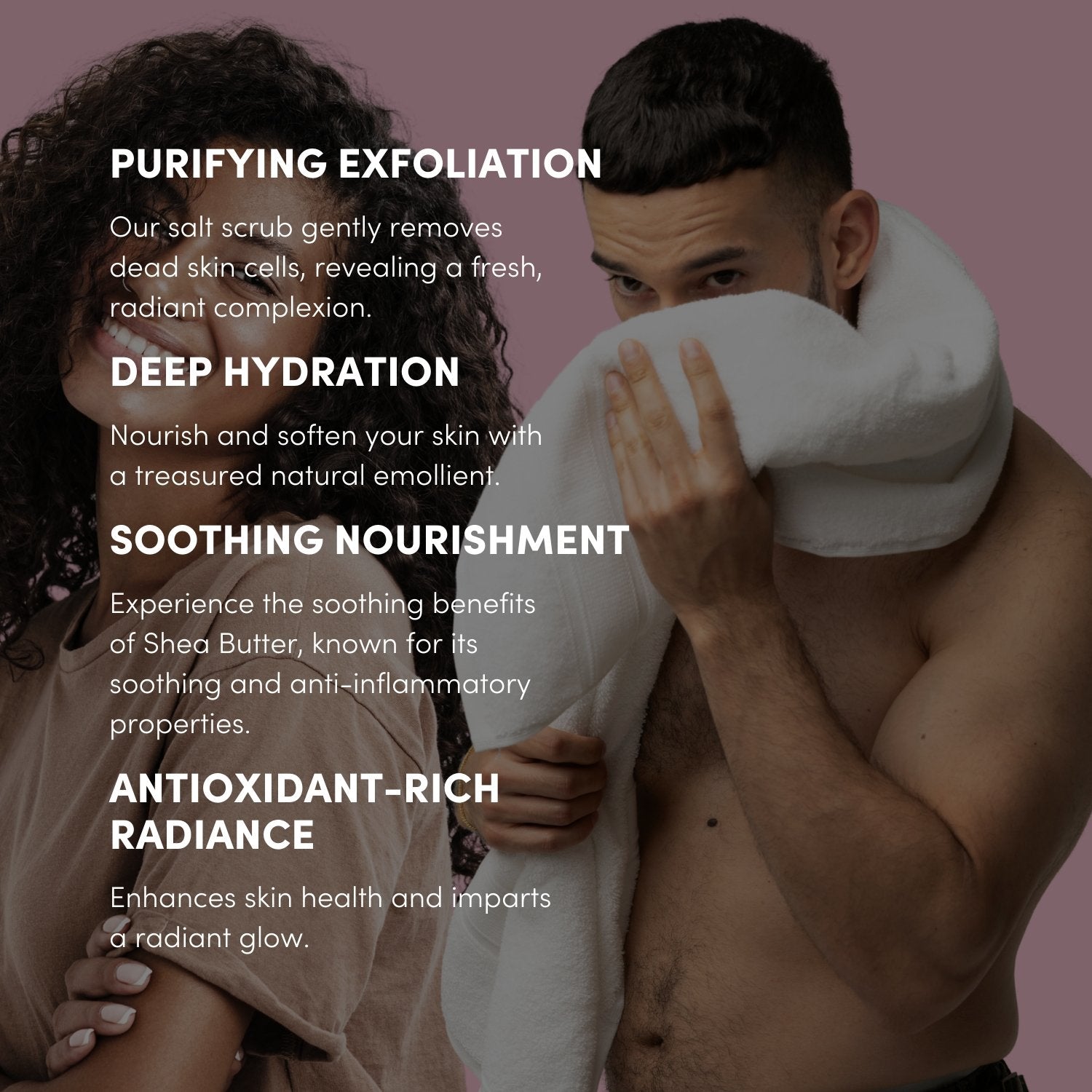 ---
Invigorating Exfoliation, Deep hydration, and Soothing properties.

 
Reveal Smooth, Radiant Skin: Experience the transformative power of our invigorating Salt Scrub. Formulated with powerful natural ingredients, this scrub gently exfoliates, revealing a smoother and more radiant complexion.
Deep Hydration and Nourishment: Indulge your skin with the deep hydration and nourishment it craves. Our Salt Scrub is enriched with ingredients like Organic Shea Butter, leaving your skin feeling incredibly soft, supple, and intensely moisturized.
Restore and Revitalize: Infused with the hydrating properties of Organic Virgin Coconut Oil, our Salt Scrub helps to restore moisture to dry and dull skin, leaving it revitalized and rejuvenated.
Soothe and Calm: Experience the soothing benefits of Organic Castor Oil as it works to calm and moisturize your skin. Enjoy a moment of tranquility and indulgence as you pamper your body and mind.
'The Salt Scrub' captures the potent exfoliating properties of Pink Himalayan Sea Salt and the moisturizing benefits of these chosen butters and oils. As you exfoliate, you're not just sloughing off dead skin, you're simultaneously nourishing, hydrating, and revitalizing your skin. The result is smoother, softer, and more radiant skin with every use.
Applying 'The Salt Scrub' is an easy and luxurious process. You simply take a small amount of the scrub and gently massage it onto your skin in a circular motion. This action not only exfoliates your skin but also enhances circulation, promoting overall skin health.
'The Salt Scrub' from Noun Naturals is a salute to the power of nature. It's a testament to how the right natural ingredients, when brought together, can provide a comprehensive skincare solution that leaves your skin feeling pampered, rejuvenated, and glowing.
Final Thoughts and Conclusion
The journey we've embarked on in this post has taken us from the ancient deposits of the Himalayas to the luxuriously hydrating world of natural butters and oils, with our final destination being the holistic skincare regimen that our bodies truly deserve.
The inclusion of Pink Himalayan Sea Salt in your skincare routine can offer a plethora of benefits. From its detoxifying properties that draw out impurities to the gentle exfoliation that promotes cellular regeneration and its mineral-rich composition that nourishes and balances skin pH - it's clear to see why this salt is much more than a kitchen staple.
However, the true magic happens when this salt is combined with other nature-derived ingredients. This is where our star product, 'The Salt Scrub,' comes into play. A unique blend of Pink Himalayan Sea Salt, moisturizing butters like Cocoa and Shea, and nourishing oils such as Coconut and Castor Oil, this scrub elevates your everyday shower routine into an indulgent, spa-like experience.
Not only does 'The Salt Scrub' exfoliate, but it also hydrates and revitalizes your skin in one go. The result is skin that feels smoother, softer, and more radiant with every application. It's a simple and effective way to take care of your skin, showing it the love it deserves.
In conclusion, Pink Himalayan Sea Salt, in synergy with natural butters and oils, provides a comprehensive skincare solution. By incorporating 'The Salt Scrub' into your routine, you're not just opting for a product - you're choosing an experience that connects you with nature and its healing abilities. It's time to step up your skincare game with the power of Pink Himalayan Sea Salt and let nature do what it does best - nourish and heal. Embrace the journey towards healthier, more radiant skin today with Noun Naturals.
Products Formulated with Cocoa Butter, Shea Butter, and Pink Salt
View all